Are you thinking about joining some other clan: No.
What is your IG (In game name): Namesis_
What is the definition of "BR"? : Black Revange
Who is BR's Leader? : Faqahat
Who is BR's co leaders? : D0c , Yahya98 , Pranesh98
Name at least 5 BR members: Tiger , Lord_Said , Joker , Gunman , Zenoxx
Name at Least 3 Server admins: Joker , Lord_Said , Athena
How old are you: 15
What is Your Gender ? [Male , Female]? Male
How long have you been playing samp? 2k10
How long have you been playing the GTA game series? When Vice City Comes out.
How long have you been playing LS-SW? Dunno, But Long Time.
Why do you want to join the BR clan [ 50 Words at least] : Because, There are a lot of skilled and mature players, also I want to be a part of this clan cause I do not like Free to join gang.. they aren't seriously and stuff like that. Also I want to show some respect to this clan, and ofc skills. That's It hope you have a good day see ya.
Name a few reasons, why we should accept you [ 50 Words at Least] : Because, I am ready to play on this server like I did long time ago. I'm completely serious about it. I am mature and friendly enought. Hopefully get accepted.
How did you find our server? : Hosted Tab.
Tell some BR clan rules:
1) Never use any kind of third party mods that gives personal advantages to your game
2) Always respect and obey higher BR levels.
3) Never abuse any kind of server bug.
4) Always act mature and professional.
Tell some trial probation rules:
1) Do not Insult
2) Do not Hack
3) Do not use Racism words
4) Do not protest
Will you be able to use skype? [If yes, write your username] : Yes. Username: namesisftw
Where are you from? : Slo
What will you do, if the server staff are offline, and there is a hacker? : I will record him and send a report in UCP.
What is your daily activity on the server? [Per Day] : 2-3 Hours.
What will you do if you see a Server Hacker?  ? : If Admins are online then I will use /report [id] reason
What will you do if you see a person with a [BR] tag who doesn't belong in the BR family? : First I'll warn him and remind server admins.
Do you cbug? If yes, for how long? : Yes, 2k11
Complete The Sentences Below :
(1) BR is the _Black__ colored gang in the server.
(2) Danny didn't complete _his__ assignment.
(3) My friends names _are__ Jimmy, Drake, and Ron.
(4) I am _playing__ in LS-SW for _3__ Months/Years.
Which languages can you speak?: English,Slovenian
Have you got banned from the server in the past? If yes, what for? : Banned by a Mistake from an admin. For more info check this topic :
http://blackrevenge-forum.niceboard.com/t6828-ban-appeal
Post a screenshot of your game stats :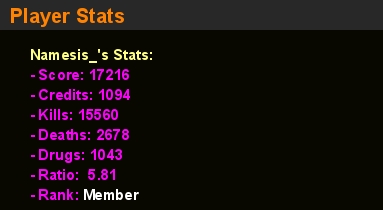 Post a SS of your best streak :
Post a SS that you have defeated/Dueled a tester in BR A/D from the following list of testers :  

Do you have any experience/knowledge in the following? :
(1) Photoshop-_3_/10
(2) Video making (Sony vegas, fraps)-_2_/10
By Posting this application you are AWARE that once accepted you are on Trial Probation for 1 month. Breaking any rules during this time will lead to a direct kick from BR.
Rate Yourself :
--WEAPONS--
SMG:-_7_ /10
Desert Eagle:-_8_ /10
Combat shotgun:-_8_ /10
Shotgun:-_8_ /10
M4-_9_/10
Sniper:-_8_ /10
--SKILLS--
C Bug :-_8_/10
--ENGLISH—
Reading-_8_/10
Writing -_8_/10
Talking-_8_/10