What's your In game Name : Trevor.
What GPB stands for?: Gleen Park Bloods
What's the GPB Leader's name?: [GPB]SmokinAce
What's the GPB Co leader's name?: [GPB]TriniBoyRyan
Why do you want to join Us : because this is professional clan and i want be in it
How old are you: 15
Are you a Boy? Girl ? Boy
Tell us how you found Our server : on samp cilent in the internet tab
Tell us some GPB rules : no heli kill/car ram - no cheating - dont insult the [GPB] Members
What's your  skype? [No skype no Accept] : mohamedaga320
Where are you from ? : syria (some people will say go help your country and shit as happened with me in all servers till now )
What do you do if you see someone uses the [GPB]Tagg without admins online ? (This person isn't in GPB Family) : i take screenshot and report him on forums
What's your daily activity on the server [Per Day] : about 3-4 hours
Will you be active in our Clan ? : yes
Do you use C-bug ? :  yes
Tell us why you wanna join [50 Words]: such a great clan with professional and friendly members and i think this clan is great for me
Tell us why we should Accept you [50 Words]: im a mini professional i know how to cbug and good in killing and i never disrespected an admin or someone ( expect hackers )
Name 5 GPB members you know : [GPB]BigBear [GPB]tcD. [GPB]Ryder_Nigga [GPB]SmokinAce [GPB]Bompton_Loc
How long you play our server?: 1.5 week
Complete The Sentences Below :
1) Grove is The green Gang in LSSW.
2) You have to Follow the GPB rules to Not get kicked.
You must duel Mr.LongBeard or TriniBoyRyan to be accepted.  do you you agree ? (Yes / No ) Yes
You must Vote on GPB Applications in forum, you'll have a warning if you dont do it. do you You Agree ? yes
Rate Your English Level from 0 to 10 :  6
Please tell us your in game stats & if you changed the acc your older stats from this server: (Kills/deaths /ratio/playing time) [/stats](show us a SS)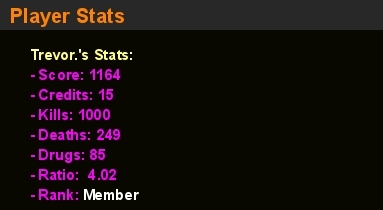 If you are accepted, you'll have a 1 month trial. Notice that [GPB]SmokinAce and [GPB]Marwan_Makaveli can kick you if you don't follow the Clan Rules. Do you Agree ? yes
Rate Yourself :
SMG:-5 /10
Desert Eagle:-7 /10
Combat shotgun:-6 /10
Sniper:9 /10
M4 : 7/10
C Bug :6 /10
Driving Skills :6 / 10
FreeFight Skills [Without weapons] : 3 / 10
Do u know what's A/D is? a game mode which a clans play in it against each other ( attack and defend)
Do u have mic?: if mic mean microphone then no
Rate ur english lvl:_/10
1.Speaking- 6
2.Reading-8
3.Writing-6
Are u communicative person or shy one? communicactive
Can u do GFX videos for GPB? i dont know how
Which editing softwares are u good at? none
Have u got skype?Xfire?Are u active there? Skype , yes
Which weapons are u really good at? Sniper and m4 and little deagle
Tell us ur usual ping,fps,PL while playing.While recording? ping is 150 - 200   fps without is 80  with is about 50-60
Anything Else You wanna share ? i think no.